Management Commitment
For SPT Offshore the care for security, safety, health, environment and quality is our highest moral obligation in the conduct of our
business affairs. To achieve this, we have implemented a QHSE Policy with four objectives:
Prevention of harm to people, property and the planet,
Compliance with applicable laws, regulations and appropriate standards,
Satisfaction of our customers' expectations and exceeding same where possible,
Continually improve and add value to our work performance.
The pre-condition for being able to comply with these objectives, is that employees understand this policy, appreciate its importance and implement it using the means stated in the policy. For this reason, I will explain the policy from time to time, to all employees and make it available to all interested parties. Needless to say, it is incumbent on each and every person within SPT Offshore to be conscious of his/her own personal responsibility and commitment to achieve these objectives. I also encourage the use of state of the art and innovative techniques and concepts to improve our performance.
Complementing this policy are the following:
The vehicle to enable these policies is our (ISO 9001, ISO 45001, ISO 14001 and ISO 50001) certified management system.
With the incorporation of acquired experiences and use of best practices, we will strive to keep the management system relevant to our needs. During the regular management reviews, we will determine SMART objectives and targets.
As the Business Unit Director, I am the prime responsible person for health and safety. Our QHSE Manager has the full authority and
support to ensure that our QHSSE objectives are met, implemented and maintained.
Jan Krijn Mosselman,
Business Unit Director
General
SPT uses an integrated management system, which is developed and maintained by its parent company, DEME Offshore B.V. The management system is certified by Lloyd's Register Quality Assurance to the following international standards:
ISO 9001: 2015 – Quality Management Systems Requirements.
ISO 45001:2018 – Occupational Health and Safety Management Systems Requirements.
ISO 14001:2015 – Environmental Management System Requirements
ISO 50001: 2018 – Energy Management System Requirements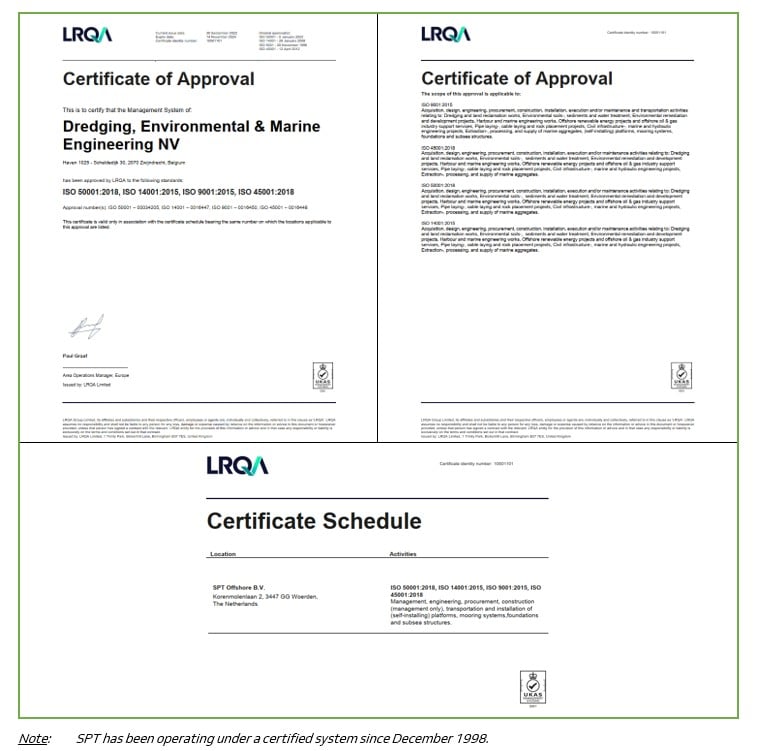 The current scope of certification is "management, engineering, procurement, construction (management only), transportation and installation of (self-installing) platforms, mooring systems and foundations and subsea structures".
Quality Assurance & Quality Control
Quality assurance and control are major aspects of the integrated management system. The processes and procedures associated with these describe the working methods adopted by SPT to guarantee the quality of SPT's work.
At the start of each project, project specific documents such as the Master Document Register, Quality Plan, Project Schedule, Inspection & Test Plan, Equipment Quality Report etc. are prepared, to ensure that all activities throughout the project meet the Company's and SPT's quality standards. The following activities, as maybe relevant to the project will be addressed:
Project and contract management activities
Document control, financial control and scheduling
Design and engineering activities
Procurement and supplier management
Fabrication management and activities
Offshore transportation and installation activities.
Safety & Health Management
At the start of each project, a Project HSE Plan is prepared ensuring that all activities throughout the project meet the Company's and SPT's HSE standards.
The working methods adopted by SPT are typically based on project specific requirements, previous work experience and the relevant industrial standards. All of these contribute to its integrated management system, aimed at the reduction of operational risks to a level as low as reasonably practicable. It is also aimed at the prevention of incidents which could impact the environment.
All main and critical work activities are thus risk assessed and mitigated through the different phase of the project i.e., starting from designing, through production and execution.
Emergency Response Plans are prepared for potential major offshore scenarios. This would include the identification of communication lines, emergency responsibilities, means of evacuation, availability of nearest hospitals and medical facilities etcetera.
Together with the Company we want to ensure that throughout the project, the Company's and SPT's HSE standards to achieve zero incidents and accidents are maintained.
Environment & Energy Management
SPT endeavours to improve its carbon footprint by adopting less pollution causing work methods and by reducing the consumption of natural resources, where these are feasible and practicable. Whilst doing so, it also considers the potential trade-off with quality, cost and risk. The following environmental aspects are monitored: air emission, waste production, energy consumption, fauna/flora, soil emission, water emission and use of natural resources.